One of my favorite songs is Christmastime Is Here written by producer Lee Mendelson and jazz pianist Vince Guaraldi for the 1965 TV special A Charlie Brown Christmas. The studio album released on Fantasy is one of the best-selling Christmas albums of all time and certified three times Platinum with close to 3.5 Million copies worldwide.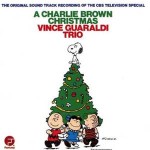 The music was initially commissioned by the Coca Cola company. Vince Guaraldi recycled the previously used Linus and Lucy and wrote two more originals for the special: Skating and Christmastime Is Here. In addition, he arranged Hark The Herald Angels Sing, What Child Is This, and O Tannenbaum. The children's choir for the recording sessions was pulled from St. Paul's Episcopal Church in San Rafael.  Since the recording sessions often went late into the night, angry parents kept pulling their children out of the choir and the personnel changed frequently during the three recording sessions in the fall of 1965. Several of the songs were rerecorded as instrumentals and more arrangements added for the album release. A Charlie Brown Christmas was voted into the Grammy Hall of Fame in 2007 and was added to the Library of Congress' National Recording Registry of "culturally, historically, or aesthetically important" American sound recordings in 2012.
Christmastime is Here is a jazz waltz with beautifully rich harmonies in AABA form. Originally written in F Major, the bridge skips to the far-away key of Db Major  – a rather uncommon harmonic twist. Somehow Guaraldi managed to find just the perfect balance of familiarity with harmonic sophistication that makes the song so attractive to a wide demographic of listeners. While I
usually like to rearrange songs and look for new conceptual approaches, I recorded this one as a solo piano version using the original harmonies and meter on the Peace on Earth album. Every year it is the first song that I will pull out as soon as it's appropriate to ring in the holiday season. Here is my version and here is a partial list of the many artists who have recorded the song:
Diana Krall, Diane Reeves, Chicago, Tony Braxton, Melissa Manchester, Kenny Loggins, Take 6, Tony Bennett, Al Jarreau, John Travolta, Mariah Carey, Steve Vai, Fourplay, John Zorn, Rosemary Clooney, Sarah McLachlan, and many more.