As a result of the digital revolution as well as economic circumstances, the consumption patterns of music and the relationship between artists and audiences have changed drastically over the past two decades. Music is now a product that is borrowed on demand – through streaming or similar services – and the desire to own a piece of music or an album is often created through a personal connection to the artist. Hence musicians have to take an increasingly active role in creating those personal connections through concerts and sharing of content and touring has become an essential ingredient in building audiences. I usually plan on three or four larger outings per year and really enjoy the opportunity to connect and reconnect with friends all over the US and internationally. This April I was invited back to the Spotlight on Jazz and Poetry live event in Philadelphia, which provided the anchor to build a 10-day tour. Here is the tour diary as a way of sharing with friends beyond the stops I was able to make on this outing.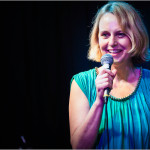 On Thursday, April 21, I packed the Prius with my equipment, merchandise, and suitcase and drove the first stretch of 7 hours to Clarksburg, WV. My friends at the WV Jazz Society had supported the crowdfunding campaign for The Whole World in Her Hands at the Piano Lesson level and wanted to cash in by providing the lesson for a young student from the area. In addition, they were hosting a concert with Chuck Redd and Marshall Keys from Washington the next day and held an open rehearsal/ jam. When I arrived at 7pm the student and his father were waiting and we set up the keyboard in a quiet space and dug into the basics of learning 'Autumn Leaves'. It was exciting to see the enthusiasm and eagerness for learning! Afterwards I got to perform with the Washington group for a tune and caught up with my WV jazz friends.
On Friday, April 22, I continued six more hours to Philadelphia. Clay Corley, host of the podcast Spotlight on Jazz and Poetry has a yearly live event where he brings poets and jazz musicians together. I get to be part of the house band together with local favorites Jason Fraticelli and Kimpedro Rodriguez. This year we featured vocalist Barbara Montgomery, saxophonist Shenole Latimer, and poets Mary Lyriq Brady, Sara Graybeal, and Tyree. The festivities usually start on Friday night with a VIP reception and open mic for the poets and musicians. The array of talent that took the stage this year was quite impressive. On Saturday, we rehearse the program with the featured guests matching the right flavor of music to their words and framing their appearances with our own concert pieces. The evening starts
with a buffet dinner, everyone arrives in gala dress and the atmosphere is quite festive. We opened the evening with Horace Silver's Sister Sadie, added some Mosquitoes and a tribute to David Baker and with frequent texture changes in feature artists, and accompaniment took the audiences on a journey debating the flaws in the education system, racial injustice, to the themes of parenting and love.
On Sunday, I continued to Washington, DC for a trio performance at Twins Jazz on U Street. Fantastic bassist Amy Shook and swinging drummer Ken Kimery joined me – they did a wonderful job playing my originals and the crowd was quite impressive especially for a Sunday night. Here is a picture diary from that night – enjoy!
Next stop on my journey was Charlottesville, VA. They have a very supportive jazz society that puts on a wide variety of events. We celebrated Jazz History Month at the Tin Whistle with a group of local greats:
Robert Jospe on drums, Dhara Goradia on bass, and Gina Sobel on flute. In addition to many exciting musical moments I added a few trivia items on Mary Lou Williams in preparation to an upcoming screening of her documentary – and we all realized that we need to learn much more about this unsung hero! Here is another beautiful picture album from that night – join the excitement!
On Tuesday, I visited John D'earth jazz improvisation class on the University of Virginia campus. We talked, played, inspired, jammed – what a beautiful teacher, those students are very lucky! A similar visit at Virginia Commonwealth University in Richmond hosted by Tony Garcia turned out to also end with a jam with John D'earth – pure coincidence and pure fun. With these career-minded students we got a bit more serious about thinking towards their futures. I hope they will all reach their definition of success over the next ten years!
On Thursday, I arrived at Marshall University in Huntington for a session with the jazz piano majors. There is no dedicated jazz piano teacher on staff and they do a lot of instruction via skype. We had a great session exploring jazz piano techniques and practice ideas – hope to be back there in the Fall! Then I continued to Lexington, KY for an evening concert for the Jazz Arts Society at the Library. My Cincinnati friends Mike Sharfe, Sandy Suskind, and Tom Buckley joined me for a beautiful set. David McWorther does an incredible job leading the group over decades now, presenting concerts at the library and a local winery. He even keeps track of each new musician to appear  – I was #133, Tom and Sandy were new  and became # 187 and 188. The series is supported by a generous donation from Jamey Aebersold, thank you!
Friday was a day in Cincinnati topped by the evening concert as part of Mike Sharfe's concert presentations at the Washington Platform. He does a wonderful job presenting a variety of featured groups and guests and has built a great audience for jazz there. I love visiting and have found new friends who have opened their house for me to stay when I come through, thank you!
On Saturday I made it back to Indianapolis just in time for the Stutz Arts Building Open House. Peter met me there at noon and we reunited for a duo performance while art lovers were touring the building and on updates on the happenings while I was out and about. Being away from home is a challenge for the family and my children have certainly missed out on their Mom many times. But on the other hand they got to tag along on many other occasions. I hope that they'll tell their kids about the cool adventures with Grandma rather than the times where Grandma missed another school function.
And since Saturday was International Jazz day, April 30, we finished the evening with our trio night at Rick's Cafe Boatyard and paid tribute to many of our jazz greats. Rick's was packed to the max since it was Prom night. But some very special visitors were several alumni from my Indianapolis Jazz History course as well as a mother/ daughter team who had heard my interview on WICR that morning about the new David Baker recordings with the Buselli/Wallarab Big Band. The daughter had been a featured vocalist with David Baker's group during the 80's and hadn't heard yet about his passing. She came by to talk about his legacy and her memories and it was a very touching encounter. The perfect cap to another memorable tour! And get ready for the Basically Baker 2 Recording Project – join the Facebook group at this link.
Hope you enjoyed this tour diary – I'm taking a group to Cologne this summer to make more special memories like these with crowdfunding support, watch for campaign details soon and hope you can join us.
Love, Monika