I'm packing my bags now to drive back home after 9 days of roaming the streets from Indiana to Virginia and back.  This year, I got to connect with several jazz societies for their holiday event, performing the material from the Peace on Earth CD and it was a heart-warming and fun adventures – just what the doctor prescribed.  May Christmas come – anyway, here is a glimpse at the diary.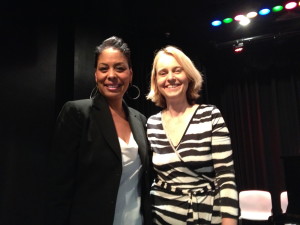 Thursday, December 11 – drive to Lexington, KY for a concert with the Lexington Jazz Arts Group.  David McWhorter heads up this group supported by funds from Jamey Aebersold for a monthly concert series at the library.  We featured some local favorites including vocalist Jessie Powell and trumpeter Mike Kruse and the Auditorium was packed.  Since there was little time to rehearse we jumped right in, captured the moment, and ended with a sing-along on Jingle Bells.  And thanks to Jessie's quick action, there will be a large percentage of families in Lexington receiving a Peace on Earth CD for Christmas.
Next stop was the Holiday Stroll organized by Eric Spelsberg who heads up the WV Jazz Society.  Anon DeFace, a fantastic young bassist from Pittsburgh brought his friend George on drums along and old friend Adam Loudin on trumpet joined in.  That was a high-energy group lighting up the Starving Artist Arts Gallery on Main Street in Clarksburg, WV.  And what a great audience too – playing happily along on all my quizzes and when we did my version of "O Tannenbaum" you could hear a pin drop!  The next day we celebrated across the street in the Main St Cafe where I did a set with another fantastic group and got to know fantastic flutist Paul Scae.  Karen Greene also joined with her soulful saxophone!
Then I headed over the mountains to Charlottesville, VA to celebrate the holidays with the Charlottesville Jazz Society.  Charlottesville is a beautiful and historic town and the jazz society organizes a large number of high-quality educational and concert events.  At Fellini's #9 we enjoyed good food and good company, especially with my rhythm section Jos and Pete – great players!
On Monday, I decided to go for a few days of skiing as well as closing the doors to get some writing done on the Chick Corea guide.  Just as I left the highway though in Staunton, the break lights came on and the back tires had quite a burnt smell.  I headed for a garage and yes, the back tires were completely gone. Luckily they fixed me up in two hours and I headed for the mountains up to the Snowshoe resort.  I even managed to catch one hour of skiing before the lifts closed.  I thoroughly enjoyed my time there until Thursday with some hours of skiing, writing, and yes, grading too.
By Friday I made it to Cincinnati, early enough to rehearse with Mike and the gang and even for three hours of afternoon skiing at Perfect North.  We performed at the Washington Platform in Cincinnati and had a great time taking holiday tunes into new directions – what a fun and interactive group with Mike Sharfe on bass, James Leslie on drums, and Sandy Suskind on flute.  Let's do it again!
Time to head home – Happy Holidays!
Monika